Ken Cranes Home Entertainment, Website
City and State:
Torrance, West LA, Encino, Pasadena, Hawthorne, Westminster
Product:
Home Entertainment Audio/Video Retail
Target Market:
Men and women looking for a TV, audio system, home theater accessories and furniture
Media:
Website and online advertising, in-store promotions, email marketing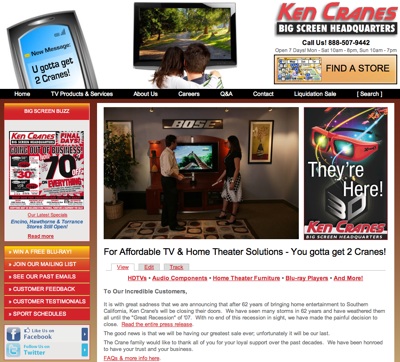 When Ken Crane's Home Entertainment wanted a website, they were unhappy with a firm that had been working on their site for a year with no results. The goal of the site was to teach the public about the benefits of Ken Crane's stores and to help the store appeal to a younger market that was not as familiar with their brand. Although products are featured on the site, the store products and pricing change daily, so the site had to be designed to get customers into the store as no products are sold online. in addition the site was designed to collect information about the site visitors and to increase the size of the Ken Crane's email list.